THEATERHOTEL DE ORANJERIE IS OPEN
Van der Valk TheaterHotel De Oranjerie is (partly) open and applies stricter measures. We would like to ask you to take these measures into account to ensure your health and that of our employees. We hope to welcome you soon for a safe and comfortable stay at TheaterHotel De Oranjerie

Thank you for understanding and trust in our hotel.

View our taken measures
---
Safe and comfortable
At Van der Valk, the health, safety and well-being of our guests and employees has the highest priority. In order to guarantee your health and safety, we would like to ask you to observe the following policy during your visit to our hotel:
Follow indicated walking direction and hygiene measures
Keep 1.5 meters distance from other guests and employees
Do not shake hands with fellow guests or hotel staff
Wash your hands regularly and in accordance with RIVM guidelines
Use paper towels to dry your hands
Cough and sneeze in your elbow and turn away from fellow guests and hotel staff
Preferably pay with pin or contactless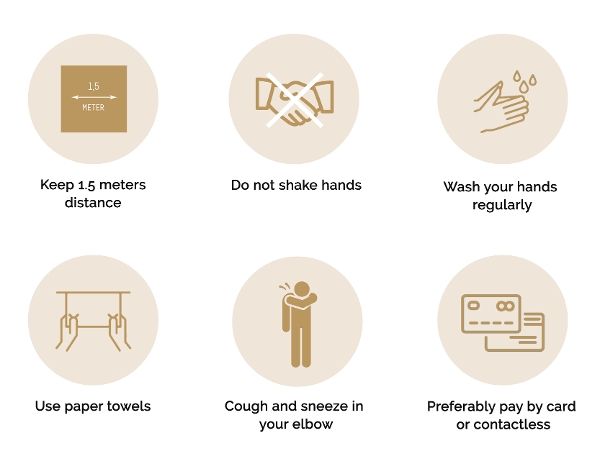 Do you have symptons of a cold, such as a runny nose, sneezing, sore throat, mild cough or increase to 38 degrees Celsius? Then we ask you to stay at home and not to come to the hotel.
We do everything we can to make your stay as safe and comfortable as possible. Thank you for your confidence in Van der Valk and we hope to welcome you in our hotel soon. If you have any questions, please do not hesitate to contact our reception.
With hospitable regards,
The Van der Valk family
---
Brasserie & Grand Café
The facilities in our hotels are limited available to prevent too many people being in the same places at the same time.
Brasserie L'Orange
At the place where you can normally enjoy an extensive breakfast buffet and three-course menu, you can now only enjoy breakfast. This is to guarantee the safety of our guests. There is also a separate entrance and exit. If you would like to dinner, this is possible in Cerise Grand Café.
Cerise Grand Café
Our Grand Café also uses a separate entrance and exit. Here you can enjoy a delicious lunch and/or dinner.
The restaurant is open exclusively for overnight guests.
We have a separate entrance and exit from the restaurant and grand café.
We ask you to wait 1.5 meters apart until our host shows you a table.
You can sit at the table with a maximum of 4 guests.
Keep 1.5 meters away. Both to our employees and to other guests.
To maintain sufficient distance, we serve at an appropriate distance
Room service is available for both dishes and drinks.

Room service
During your hotel visit you can still use our room service. We charge the same costs as usual for this.
---
Facilities
A number of facilities in our hotels are closed to ensure the health of our hotel guests.
Theater
The theater is unfortunately due to the measures closed. If you have a ticket for a performance, read more about it here or contact our reception for any further questions.
Fitness
Our fitness room is currently closed. The health of our hotel guests is always number 1 and to guarantee this, our fitness room is temporarily unavailable.
Wellness
Unfortunately, we temporarily no longer provide in-room treatments to guarantee the safety of our guests.
---
Hotel Service
During your hotel visit, we also try to make it easy for you during these times so that you can fully rest. See what we can do for you below.
Laundry and dry cleaning service
You can drop off your laundry at the reception from Monday to Friday. If you do this before 8.30 am, you will receive your clothes back the same day.
Bicycle rental
Discover the beautiful surroundings of Roermond by bicycle! For this we work together with Dirks Rijwielen & Fietsverhuur. You can choose from a normal men's or women's bicycle or an electric bicycle. Roermond has over 1000 km of well-marked cycling routes that you can explore. Enjoy the beautiful surroundings.
Play golf
The Golf Course Herkenbosche is open again on 11 May. Here you can play golf on the 18-hole course.
---
Frequently asked questions

Can Van der Valk be open as a hotel and restaurant?
Yes, according to government guidelines it is allowed to be open as a hotel. Food and beverage outlets in the restaurant for our hotel guests may be open. Brasserie L'Orange is only open for breakfast. Cerise Grand Café is open for a delicious lunch and/or dinner.
Is visiting a Van der Valk hotel safe?
Van der Valk takes your health and that of the employees very seriously. We have tightened measures within the hotel so that this can be guaranteed. All Van der Valk hotels are furnished according to the guidelines of the RIVM. As a hotel, we do everything we can to keep risks to a minimum.
As a hotel guest, can I use the restaurant facilities?
Yes, as a hotel guest you can use the restaurant. We use stricter measures here to make your visit to our restaurant as safe as possible. For example, Brasserie L'Orange is only open for breakfast. Everything will also be served and there will be no breakfast buffet. Cerise Grand Café is open for lunch and/or dinner.
Is it possible to order room service?
Yes, you can simply order room service from your hotel room via the reception. We charge the same costs as usual for this.
Can I cancel or change my booking?
We use the same conditions as normal. You can change or cancel your booking free of charge up to 24 hours before check-in.